Audi A6 2023 Review and Prices in KSA
The Audi A6 is an executive car manufactured by Audi since 1994 when its 1st generation was out then followed by 4 generations, with the 5th introduced in 2018. The Audi A6 2023 is part of its 5th generation that comes in 3 trims: A6, S6, and RS6 Avant. The trims are powered by a 2.0L 4-cylinder engine, 2.9L V6 engine, or a 4.0L V8 engine, depending on the trim.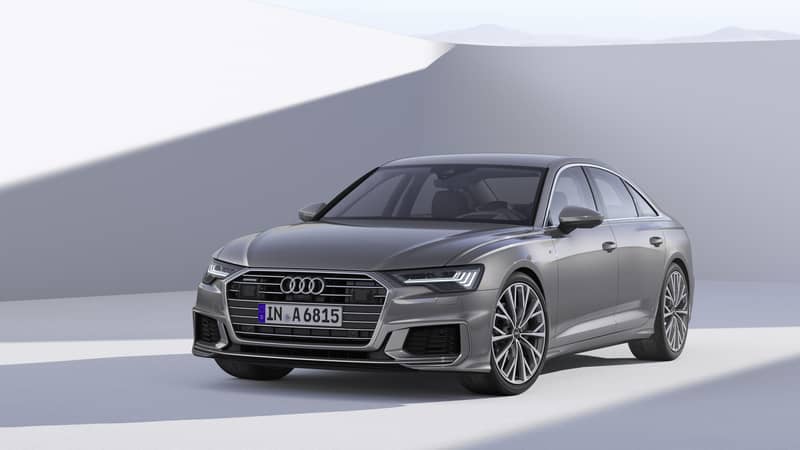 Audi A6 Exterior
Audi A6 2023 is a good looking car, just like all Audi cars, with its LED headlights, optional matrix LED lights, the large chrome grille or black honeycomb grille, the redesigned front bumper, and the front fog lights. Depending on the trim option, the sides have wheel arches, body-colored side mirrors, and body-colored door handles. The wheels can be up to 22 inches in diameter. Large LED taillamps, an exhaust system with dual exhaust tips, a trunk cargo access, a rear bumper, and lower light strips are all features of the A6 2023. The Audi RS6 Avant, which is the highest trim and comes in wagon model, has a rear diffuser, a front splitter, and carbon fiber accents. The Audi S6 and the Audi RS6 Avant, both of which are sporty trims, look absolutely stunning and aggressive. Ibis White, Myth Black Metallic, Daytona Grey Pearlescent, Coral Orange Metallic, Tango Red Metallic, and Soho Brown Metallic are a few of the exterior colors that will be offered for the Audi A6 in 2022. The vehicle's exterior measurements are 493.9 cm in length, 188.6 cm in width, 145.7 cm in height, and 283.3 cm in wheelbase.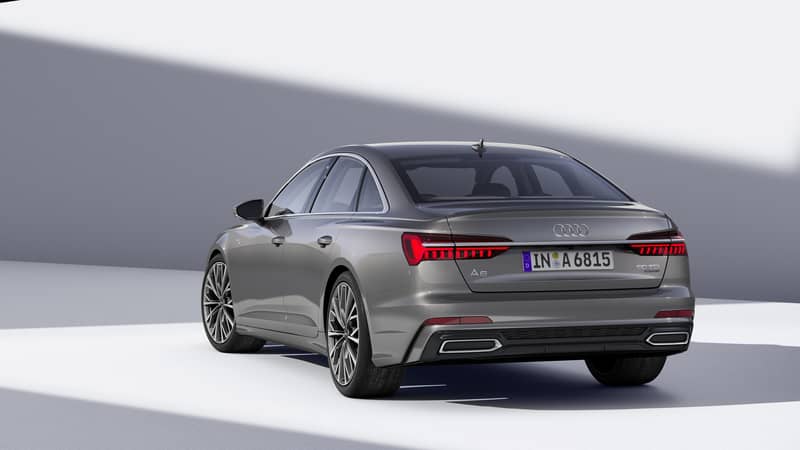 Audi A6 Interior
In terms of interior features, the Audi A6 2023 has leather seats, wood and chrome inlays, heated and cooled seats, driver seat memory, a multi-function leather-wrapped steering wheel, 4-way adjustable front seat head restraints, a front center armrest, ISOFIX child seat anchors, and a folding rear bench seat. The interior also includes a rearview mirror, front, and rear floor mats, ambient lighting, a dual-zone automatic air conditioner, and AC vents. The higher and sportier trims have sporty or RS sporty leather seats in diamond stitching with Alcantara accents, which also decorate many other places in the cabin.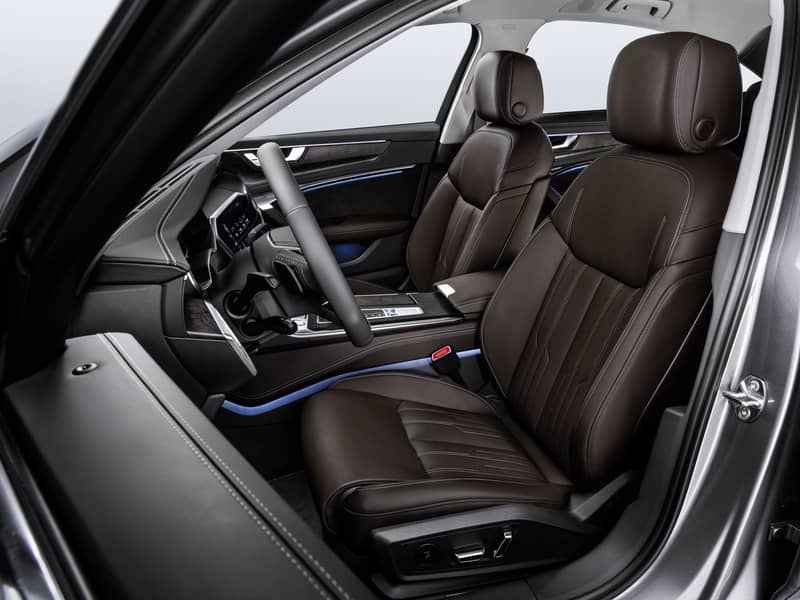 Audi A6 Technology and Infotainment
The Audi A6 2023 boasts a 12.3-inch touchscreen with navigation, voice command, Apple CarPlay, Android Auto, and Bluetooth, in addition to an 8.6-inch screen for controlling seat cooling and heating. It also has a 10-speaker sound system, with a 16-speaker Bang & Olufsen sound system available as an option.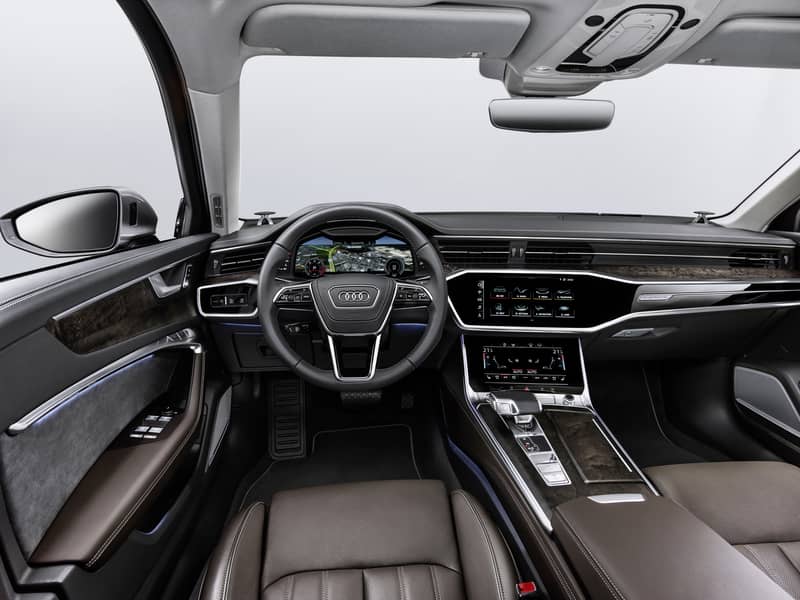 Audi A6 Engine Specifications
3 engine options power the Audi A6 2023: a 2.0L 4-cylinder engine with 190hp or 245hp respectively with 370Nm of torque, a 2.9L V6 engine with 450hp and 600Nm of torque, and a 4.0L V8 engine with 600hp and 800Nm of torque. The engines are connected to either a 7 or 8-speed automatic transmission with FWD or AWD Quattro drivetrain depending on the trim. 0 to 100km/h time is between 7.9sec and 3.6sec and top speed is between 250km/h and 305km/h.
Audi A6 Safety and Driver Assistance
Among the safety and driver assistance features of the Audi A6, 2023 are six airbags, a rearview camera, front and rear parking sensors, lane departure warning, front collision alert, pedestrian recognition, automated emergency braking, adaptive cruise control with speed limiter, and lane-keep assist. The safety features also include night vision assistance, blind-spot monitoring, rear cross-traffic alert, traffic sign recognition, antilock braking system, and junction crossing aid.
Why should you buy an Audi A6 2023?
Thanks to its cutting-edge technology, luxurious interior, and comfortable and stable ride, the 2023 Audi A6 is a superb car. It provides incredible performance along with a ton of comfort and luxury. The Audi RS6 Avant 2023 is one of the most astonishingly beautiful wagons in the world, and it has an incredible performance with the best handling. It's a car that combines luxury, sportiness, comfort, and safety.
Audi A6 2023 Prices
Prices for the Audi A6 2023 are currently not available.
Audi A6 2022 vs Audi A6 2023
No changes were made for the Audi A6 2023 since the 2022 model received a facelift.
Audi A6 Comparison between Trims and Models
The Audi A6 2023 is available in 3 trims, which are the A6, S6, and RS6 Avant. The difference between the trims is the engine option and the wheel size, as well some features in the looks and the cabin as some trims have a high performance and better aerodynamics.
Audi A6 Pros and Cons
Performance, safety features, and handling are the pros of an Audi A6 2023. The cons are pricey options and the limited space.