Audi Q3 2023 Review and Prices in KSA
Audi Q3 is a small luxury crossover car that Audi has started to produce since 2011 when the first generation was launched, then followed by the second generation in 2018. The 2023 Audi Q3 is part of the second generation that comes in 3 trims: Q3, Q3 Sportback, and RS Q3 Sportback. The car operates with either a 1.4 -liter turbocharged 4-cylinder engine, a 2.0 liter 4-cylinder engine, or a 2.5 liter 5-cylinder turbocharged engine.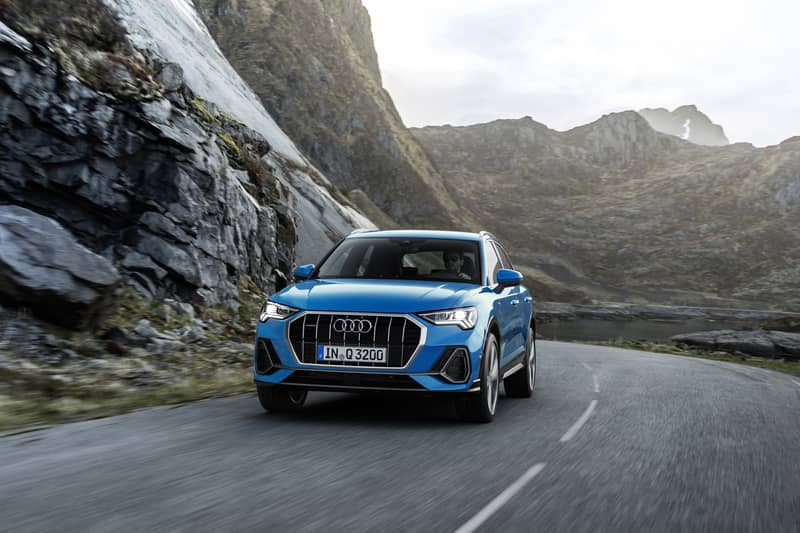 Audi Q3 Exterior
Audi Q3 2023 comes with a large chrome or black grille depending on the trim, large side vents, LED headlights and daylights. The sides include wheels ranging between 17 and 21 inches, electrically adjustable side mirrors with turn signals, body-colored door handles, and roof bars. The rear comes with LED rear lights, a roof wing, a wide bumper, rear fog lights, and an electric rear cargo door. The car is available in silver, orange, black, red, and white. The length of the car is 448.5 cm, its width is 185.6 cm, its height is 155.7 cm, and its wheelbase is 268 cm.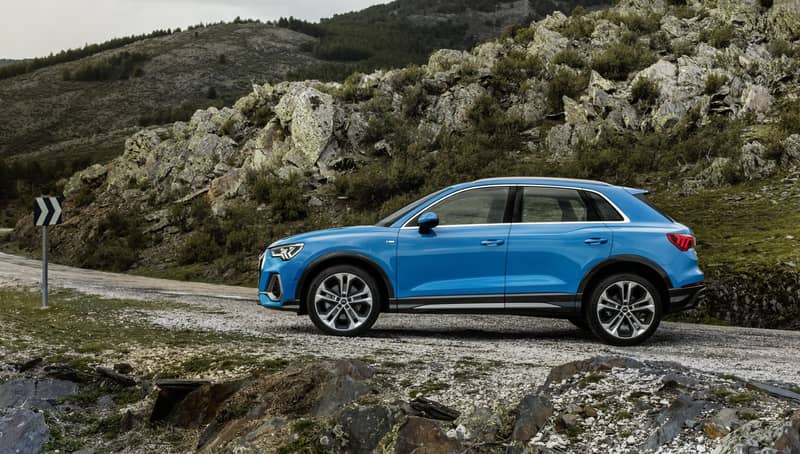 Audi Q3 Interior
The Audi A3 2023 cabin comes with leather seats and folding rear seats with three headrests, front armrests with cup holders, multifunctional steering wheel coated with leather, a glove box, a rear-view mirror, and a dual-zone climate control.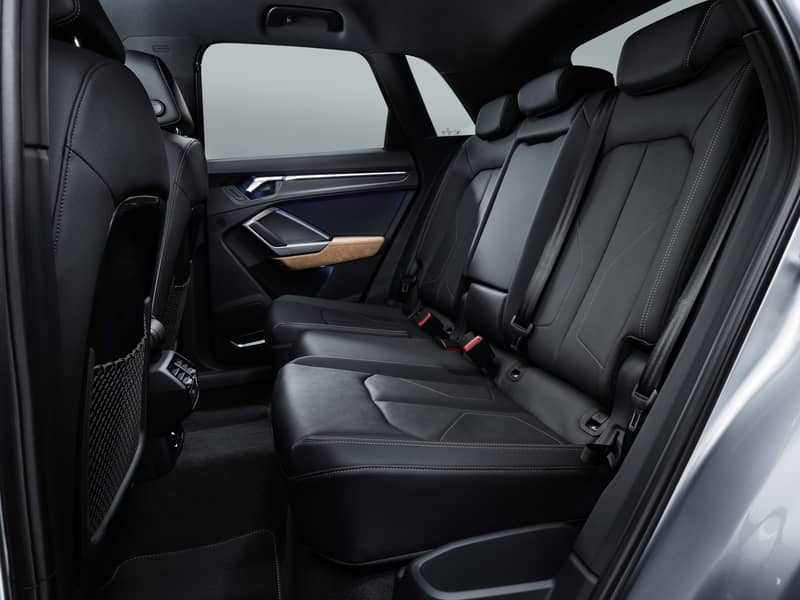 Audi Q3 Technology and Infotainement
Technology in Audi Q3 includes a 8.8 -inch touch screen, Apple CarPlay, Android Auto, Radio, Bluetooth, MMI system, wireless phone charger, a lower screen for climate control, four USB ports, Bang & Olufsen audio system consisting of 10 or 15 speakers.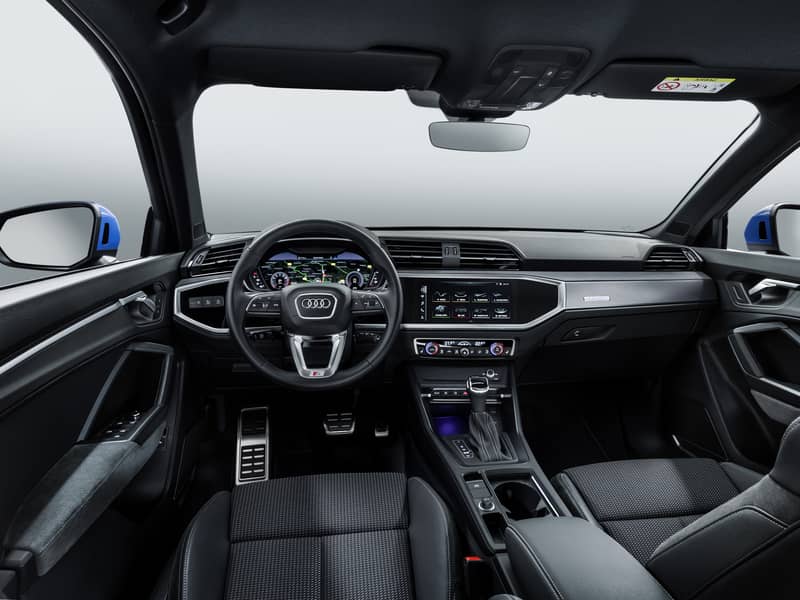 Audi Q3 Engine
The Audi Q3 comes either with a 1.4 liter four-cylinder engine with 150 hp and 250 Nm of torque, a 2.0 liter four-cylinder turbocharged engine with 180 hp and 320 Nm of torque, or a turbocharged 2.5 liter five cylinder engine 400 hp and 480 Nm From torque. The car comes with a 7-speed automatic transmission, or a FWD or AWD, depending on the model. Its acceleration ranges from 0 to 100 km/h between 9.4 seconds and 4.5 seconds, and its maximum speed ranges between 200 km/hour and 250 km/h.
Safety systems and help driver at Audi Q3
The car includes a rear camera, Audi Pre-Sense system, Front Collision Warning with Pedestrian Detection, front and rear sensors, Blind Spot Control System, Rear-Traffic Alert, Lane Departure Warning, 360-degree camera, ABS, EBD, ESP, traction control, six airbags, and Cruise Control.
Why should you buy Audi Q3 2023
?
Audi Q3 2023 is a practical luxurious and sporty SUV. It is a family car with multiple safety systems, and has a good fuel consumption rate. Add to that, the RS Q3 trim has an astonishing performance.
Audi Q3 2023 Prices
The prices of the Audi Q3 2023 are currently not available.
Audi Q3 2022 vs. Audi Q3 2023
The Audi Q3 2022 has had a facelift, and has remained the same till 2023.
Audi Q3 Comparison between Trims and Models
The Audi Q3 comes in three trims, the Q3, Q3 Sportback and RS Q3 Sportback, and the difference between them is the engine option, the performance, and some exterior and interior features.
Pros and Cons of Audi Q3
Audi Q3 has a good performance, great handling, and a beautiful design, but its options are expensive and the car weak off-road abilities.