Audi A3 2023 Review and Prices in KSA
The Audi A3 is a subcompact executive/small family car manufactured by Audi since 1996 with the 1st generation, which was followed by 3 generations, with the 4th introduced in 2020. The Audi A3 2023 is part of its 4th generation that comes in 5 trims: Sedan, S3 Sedan, S3 Sportback, RS3 Sedan, and RS3 Sportback. The trims are powered by either a 1.4L 4-cylinder engine, 2.0L 4-cylinder engine, or a 2.5L 5-cylinder engine.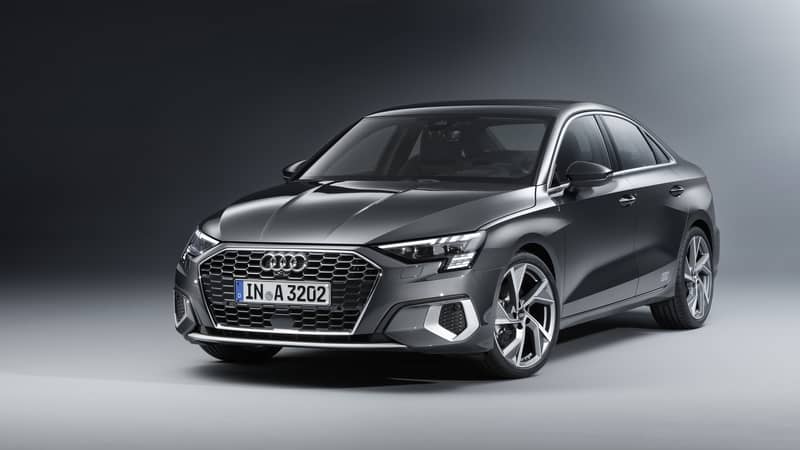 Audi A3 Exterior
The front of the Audi A3 2023 has a dynamic grille with a distinctive design, optional LED matrix headlights, daytime running lights, and front fog lights. Wheels up to 19 inches in diameter, body-colored door handles, and body-colored electric side mirrors with turn signals are all present on the sides. The Audi A3 2023's back incorporates rear cargo access, a dual or quad exhaust system, rear fog lamps, and LED brake lights. Tango red metallic, python yellow metallic, Navarra blue metallic, turbo blue, and Daytona gray pearl effect are the exterior colors that are offered. The vehicle has exterior measurements of 454.8 cm long, 181.6 cm wide, 142.5 cm high, and 268 cm in wheelbase. The RS3 trim has a more aggressive look with black accents, carbon fiber accents, bigger vents, and RS colored calipers. A diffuser, a front splitter, and a sporty design for the wheels are added as well. The S3 also looks sporty and attractive but not as much as the great RS3, which is considered one of Audi's greatest cars.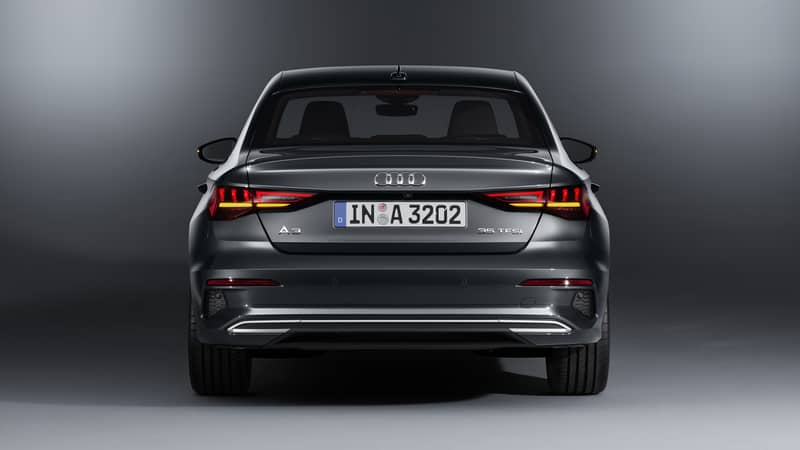 Audi A3 interior
The Audi A3 2023's interior includes leather seats, (RS sporty seats with diamond stitching for the RS3 version), sporty seats for the S3, an 8-way power driver seat with 4-way power lumbar support, a 6-way adjustable passenger seat with manual recline and height adjustment, a 40-20-40 folding bench seatback rear seat, a multifunctional leather steering wheel, front and rear cupholders, a front and rear center armrest, front and rear floor mats, a rearview mirror, carbon fiber accents, piano black accents, and a driver footrest. Dual-zone automatic air conditioning with AC vents and air filtering is also included on the inside.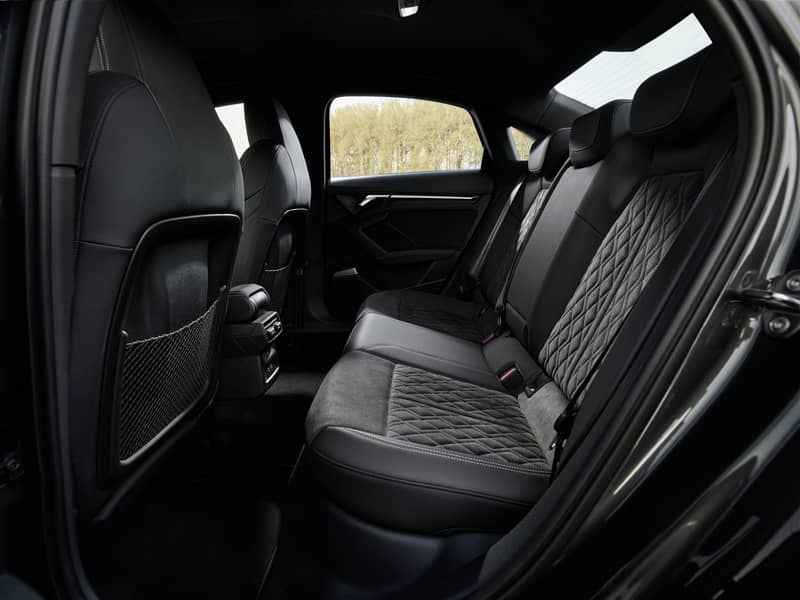 Audi A3 Technology and Infotainment
The Audi A3 2023 has a 10.1-inch touchscreen, a 12.3-inch digital instrument panel, Bluetooth, Apple CarPlay, Android Auto, HD radio, and USB connections among its technological and infotainment capabilities. A top-notch audio system with up to 6 speakers is additionally offered. Audi Drive Select with multiple driving modes is also available.
Audi A3 Engine Specifications
The 1.4L turbocharged engine that powers the Audi A3 2023 produces 150 horsepower and 250Nm of torque. It is mated to a 7-speed automatic transmission and comes standard with FWD, while AWD is an option. Top speed is 227 km/h, and 0 to 100 km/h takes 8.2 seconds. There are four different driving modes: Comfort, Dynamic, Individual, and Automatic. There are 2 other engine options, a turbocharged 2.0L 4-cylinder for the S3 trims with 290 horsepower and 400 Nm of torque, and a turbocharged 2.5L 5-cylinder for the RS3 with 400 horsepower and 500Nm of torque. Both are coupled to an AWD Quattro system and a 7-speed automatic transmission. Both vehicles reach a top speed of 250 km/h. The Audi S3 goes from 0 to 100 km/h in 4.9 seconds, while the RS3 goes from 0 to 100 km/h in only 3.3 seconds.
Audi A3 Safety and Driver Assistance
Among the safety and security features in the Audi A3, 2023 are the blind-spot detection system, tire pressure monitoring system, lane departure alert system, congestion driving assistant, active cruise control system, parking assistance system, traffic sign recognition, forward collision warning, rearview camera, and a collection of six front, side, and curtain airbags. Adaptive assistance technologies become available when the following distance gets too close, and Cross Traffic Control keeps an eye out for any vehicles that are approaching from the sides.
Why Should You Buy an Audi A3 2023?
Audi A3 2023 is ideal for small families. It has excellent handling and a smooth ride. It has a luxurious interior with plenty of high-end materials and simple-to-use high-tech features. Consider the Audi A3 2023 if you want a compact family car. If you crave for more performance, the Audi S3 and the Audi RS3 are among the best high performance Audi cars. If you want just a small car with a good performance, choose the Audi S3. However, if you want pure action and adrenaline in a reliable daily-driver car, definitely choose the RS3.
Audi A3 2023 Prices
prices for the Audi A5 2023 are currently not available.
Audi A3 2022 vs Audi A3 2023
The 2023 model of the Audi A3 came with no changes since the 2022 model received a facelift.
Audi A3 Comparison between Trims and Models
The Sedan, S3 Sedan, S3 Sportback, RS3 Sedan, and RS3 Sportback are the trims of the Audi A3 2023. The difference between the trims are the engine options, the power, the drivetrain, the looks, and the wheel size, which is either 16, 17, 18, or 19-inch. Some of the features differ between the dealers.
Audi A3 Pros and Cons
Performance, safety features, handling, and fuel economy are the pros of an Audi A3 2023. Pricey options and average rear space are the cons of the Audi A3 2023.