Table of Contents
Audi RS E-tron GT 2024 Overview and Prices in UAE
The Audi RS E-Tron GT 2024 attracts attention and questions since it has a spaceship-like appearance. Its power will make you smile with each acceleration that boasts a rush of adrenaline in your blood. It is the RS version of the "normal" E-tron GT, the sportier and more aggressive version with more power, sportier appearance, and faster acceleration. The Audi RS E-Tron GT 2024 is a great option for individuals seeking for an electric car that is sporty but practical and comfortable for daily use.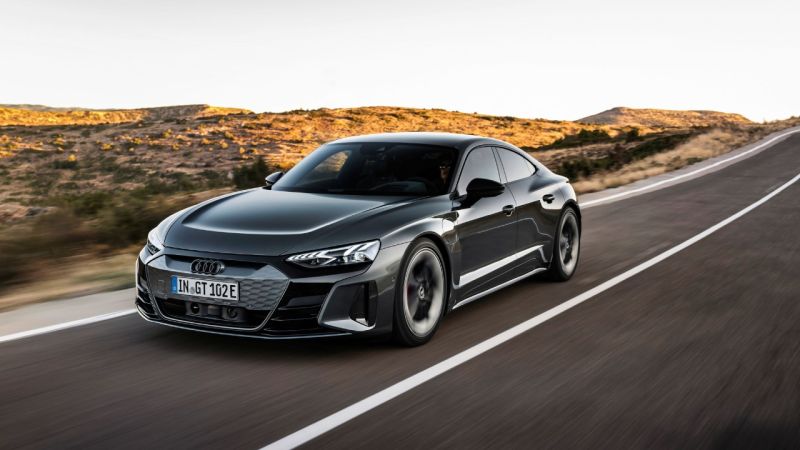 Audi RS e-tron GT Trims:
UAE:
Saudi Arabia:
Audi RS E-Tron GT 2024 Powertrain and Chassis
Transmission: 2-speed transmission
Electric Range: up to 472km
dual electric motors:
598hp 440kw (637hp with boost engaged) and 830Nm of torque
0 to 100km/h in around 3.3sec
Top speed is approx. 250km/h
Quattro All-wheel drive
Power consumption is 20.1 kwh/100km
Luggage capacity is 350 Liters
Audi RS E-Tron GT 2024 Exterior
The exterior lighting system: Let's not limit ourselves to the LED lights that come standard on the Audi RS E-Tron GT. The lighting setup is just more entertaining! Better visibility is provided by the optional matrix LED lights, and the Audi RS E-Tron GT stands out in the competition thanks to its dynamic or animated LED lighting. When you click the unlock or lock button on your key, your car will appear more fun and 10 times more gorgeous if you select those animated LED lights that offer a lighting show. You will be treated to a spectacle unlike any other by the back taillight.
The exterior looks: The engineering behind the Audi RS E-Tron GT is excellent. You'll observe how slender the car's sides are. Its broad rear track, lack of angular side lines, and other aerodynamic characteristics all help to increase the car's efficiency and lower drag, which results in more battery power and better performance. Starting with the oddly shaped wheels, which are available in 19-inch as standard, 20-inch, or 21-inch as options, you'll notice this. Impressive strength is conveyed by the strongly sculpted shoulder line and the unique rear diffuser. The Audi RS E-Tron GT communicates its drive to move forward even when it is still with a gently sloping top line that continues deep into the rear. Lastly, the Audi RS E-tron GT's aerodynamics make it more efficient, and the regenerative braking system contributes as well in recovering the wasted energy when braking.
The exterior colors: ibis white, floret silver metallic, tactics green metallic, Vegas yellow, Havana black metallic, and deep green pearl effect are some of the exterior colors available for the Audi RS E-Tron GT 2024. Other exterior colors are available. Check with the dealer for available options.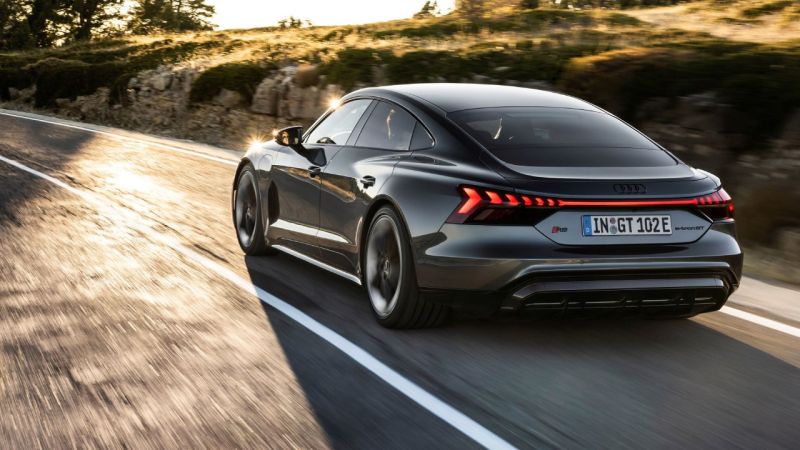 Audi RS E-Tron GT 2024 Interior and Infotainment
The interior looks: Front sport seats in the Audi RS E-Tron GT 2024 include 14-way power adjustments, 4-way power lumbar adjustments, and heating and ventilation functions. For increased storage space, the back seats can be folded 60:40. The multipurpose steering wheel is made of sports-specific Alcantara simulated suede. A tri-zone controlled temperature control system, air conditioning vents, air filtration, ambient lighting, and front and rear center armrests with storage are all included in the cabin. The seats' design and the carbon fiber accents around the cabin, which seem familiar and don't really give the idea of an odd electric car, add to the athletic atmosphere. The central console, which resembles a traditional Audi console, is decorated in piano black. A leather-free interior is also available
The technology features: The 10.1-inch touchscreen, 12.3-inch fully digital instrument cluster, Bluetooth, Apple CarPlay, Android Auto, voice activation, and radio are all features of the Audi RS E-Tron GT 2024. Additionally, you get a Bang & Olufsen 3D premium sound system with 16 speakers and a 710W quality amplifier.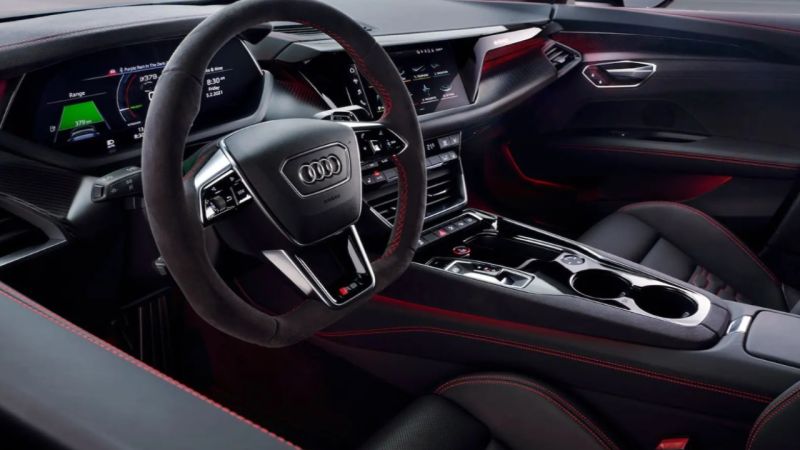 Audi RS E-Tron GT Pros and Cons
Pros:
Zero emission
Performance
handling
Cons:
price
Some luxury features are lacking in comparison to its fossil fuel siblings
Audi RS E-Tron GT Safety and Driving Assistance
Audi equipped the RS E-Tron GT 2024 with the following safety features which include
Electronic Stability Control
airbag occupancy sensors
airbags
front and rear parking sensors
front and rear collision mitigation
Antilock Braking System
Traction Control
side-impact beams
seatbelts
Tire Pressure Monitoring System
Rear child safety locks
backup cameras
Audi RS E-Tron GT 2024 Prices
UAE:
RS E-Tron GT: Currently not available
Saudi Arabia:
RS E-Tron GT : SAR 723,000