Hongqi H9 2023 review and Prices in UAE
The Hongqi H9 is a full-size luxury car that Hongqi has been producing since 2020; the latest generation will be the 2023 model. Six trim levels are offered for the Hongqi H9 2023: Luxury 2.0T, Luxury 2.0T two-tone, Comfort 3.0T, Comfort 3.0T two-tone, Executive 3.0T, and Executive 3.0T two-tone. A 3.0L supercharged V6 engine or a 2.0L turbocharged 4-cylinder engine power the vehicle.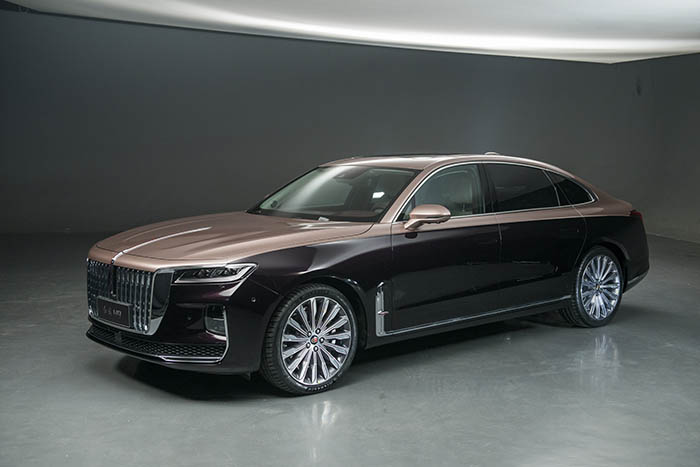 Hongqi H9 Exterior
The appearance of the Hongqi H9 2023 is extremely attractive, with a massive front chrome grille with a waterfall design. The grille is enclosed on the bottom by an LED light that extends upward to link the matrix LED lights. The front also has a lower ventilation system and fog lights. The sides of the Hongqi H9 are sleek and smooth, with body-colored retractable door handles. Depending on the model, the sides also have 20-inch chrome wheels. A red line runs from the front, into the inside, and immediately outside to the back, which also has LED taillights, an exhaust system, and cargo access. Exterior colors available are black, purple, brown, a double tone of gold with purple, and gold with brown. Exterior dimensions are 513.7cm in length, 190.5cm in width, 149.3cm in height, and 306cm wheelbase.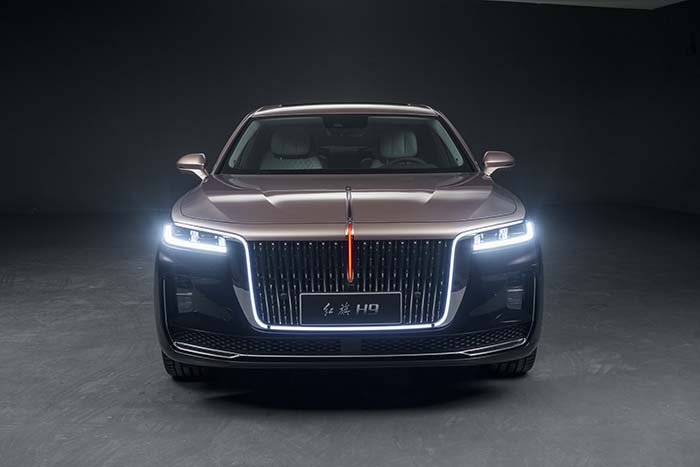 Hongqi H9 Interior
The interior of the Hongqi H9 2023 is a one-of-a-kind definition of luxury, with hand-stitched leather seats, rear infotainment screens, electrically adjustable driver and front passenger seats with massaging ventilation, and heating functions, a multifunctional steering wheel, ambient lighting, front and rear center armrests with storage, power windows, a rear passenger screen, a sunroof, and a tri-zone climate control system with AC vents. The dashboard is covered with a massive screen that joins the primary front infotainment screen, the instrument cluster, and the passenger screen.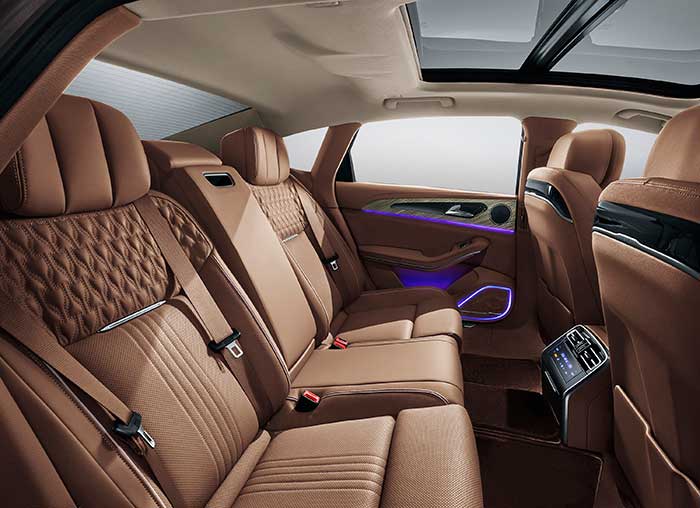 Hongqi H9 Technology and Infotainment
The Hongqi H9 2023's 12.3-inch touchscreen, instrument cluster, heads-up display, wireless charger, and 12-speaker Bose audio system are among its technological and infotainment highlights.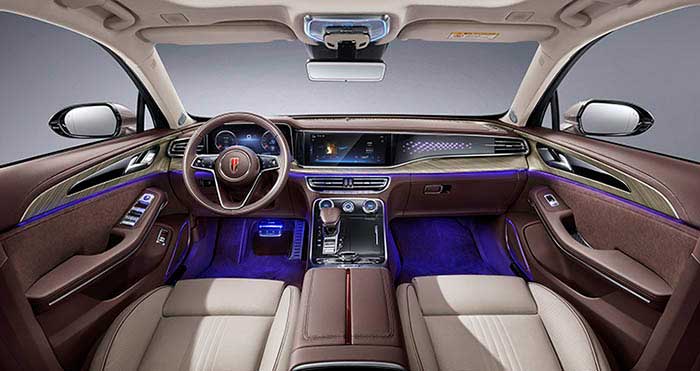 Hongqi H9 Engine Specifications
The 2.0L turbocharged 4-cylinder engine in the Hongqi H9 2023 has 250hp and 380Nm of torque, and the 3.0L supercharged V6 engine has 281hp and 400Nm of torque. A 7-speed DCT transmission and RWD drivetrain are mated to both engines. The time from 0 to 100 km/h is 7.8 to 7.1 seconds, and the top speed is 250 km/h.
Hongqi H9 Safety and Driver Assistance
Lane Departure Warning, Speed Limit Warning, Forward Collision Warning, Lane Keep Assist, Driver Attention Alert, Blind-Spot Detection, Adaptive Cruise Control, Autonomous Emergency Braking, surround view monitor 360, and front and rear parking sensors are among the safety and driver assistance features in the Hongqi H9 2023. Airbags and auto parking are also considered to be safe.
Why Should You Buy a Hongqi H9 2023?
With a front grille and overall design that are reminiscent of Rolls Royce, the Hongqi H9 2023 has a nice-looking appearance. It includes a high-tech cabin with a beautiful design, a heads-up display, and security systems including Pre-Collision Alert and Lane-Keeping Assist. The Hongqi H9 2023 is a fantastic option for those who enjoy luxury automobiles.
Hongqi H9 2023 Price
The starting price for the Hongqi H9 2023 is approx. $68,128.
Hongqi H9 2022 vs Hongqi H9 2023
The Hongqi H9 2023 came with no major changes. It came with the same features as the 2022 model.
Hongqi H9 Comparison between Trims and Models
6 trims are available for the Hongqi H9 2023 which are the luxury 2.0T, luxury 2.0T two-tone, comfort 3.0T, comfort 3.0T two-tone, executive 3.0T, and executive 3.0T two-tone. The difference between the trims is in the engine option which is a 2.0L turbocharged 4-cylinder engine or a 3.0L supercharged V6 engine. 20-inch wheel size is standard on all trims. some of the features differ between the dealers.
Hongqi H9 Pros and Cons
The pros of a Hongqi H9 2023 are the interior space, comfort, price, and features. The cons of a Hongqi H9 2023 are the brand value and average acceleration.