Infiniti Q50 2023 Review and Prices in UAE
The Infiniti Q50 is a luxury sedan with a touch of sportiness that makes it fun to drive. It comes in 4 trims, which are the 3.0T Luxe, 3.0T Sensory, 3.0T Sport, and 3.0T Red Sport. It is powered by a 3.0L twin-turbocharged V6 engine, and it turns head with its impressive design.

Infiniti Q50 Exterior
There's nothing much to say about the exterior design. It has the traditional Infiniti cars grille with the logo, and the familiar headlights design, which are automatic. The sides hold power-foldable and heated mirrors, and you'll get to choose between the design of the 18 or 19" rims. The design is distinguished by the sleek lines of the side that also follow the rear wing, which is the result of an extended trunk. The rear comes with sporty dual exhaust tips. Pure white, majestic white, graphite shadow, slate gray, dynamic sunstone red, grand blue, midnight black, and black obsidian are the exterior colors available. The exterior measurements are 481cm long, 208.4cm wide, 144.5cm high, and 285cm wheelbase. The dimensions might differ between the trims.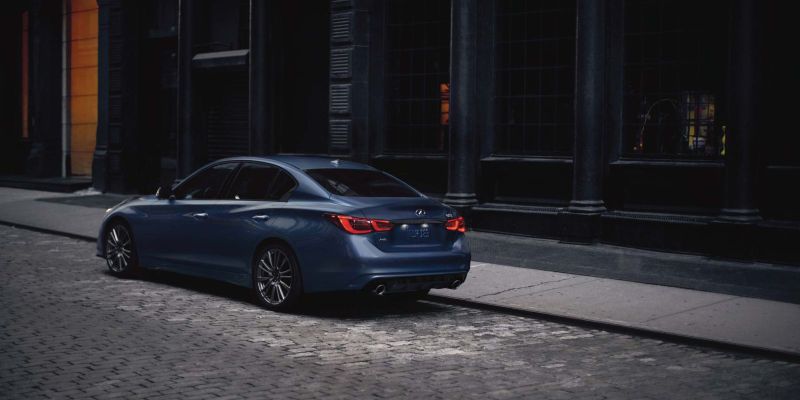 Infiniti Q50 Interior
The cabin of the Infiniti Q50 2023 has been thoughtfully designed to stimulate your senses. It's impressively made of leather, aluminum, and carbon fiber accents, all which mean high quality items. The cabin includes quilted leather seats, multifunctional oval-shaped steering wheel wrapped with leather, power-adjustable driver and front passenger seats, ambient lighting, power sliding moon roof that enhances the feeling of interior space, carbon fiber interior trim, leather shift lever knob, aluminum pedals, and dual-zone automatic climate controls. All these features mean that the cabin combines sportiness and luxury in a unique way. Even when looking at it, you can see the sportiness in the exposed carbon fiber, and feel the beauty of luxury in the leather and the stitching.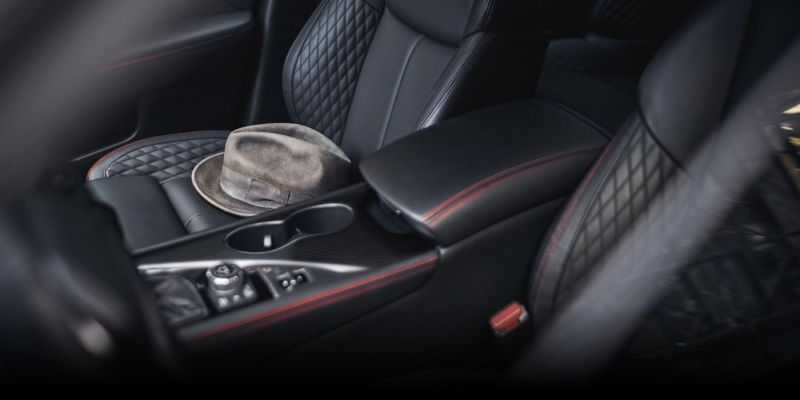 Infiniti Q50 Technology and Infotainment
The Infiniti Q50 2023's advanced cabin technology will keep you connected to your conversations, content, and navigation no matter how far you travel. The cabin comes with an upper 7-inch touchscreen that includes Apple CarPlay and Android Auto. Another 7-inch touchscreen comes underneath the first to control the climate. Technology features also include wireless charger, navigation with 3D maps and voice recognition, USB ports, and a 6-speaker sound system or a Bose Performance Series audio system with 16 speakers are among the technology and infotainment features of the Infiniti Q50 2023.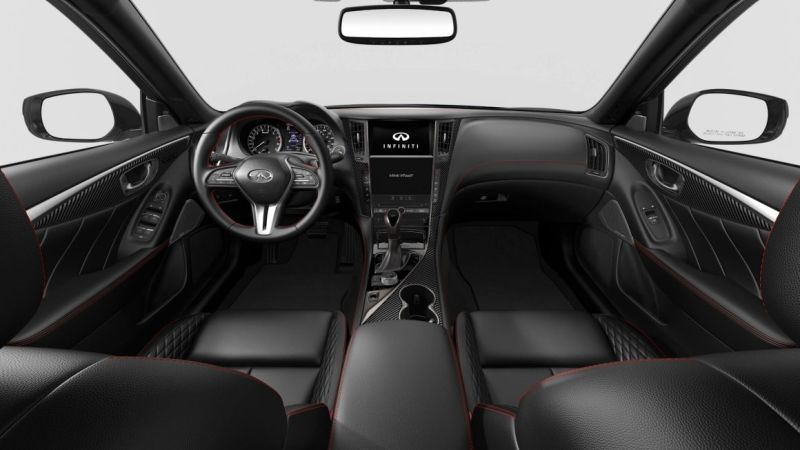 Infiniti Q50 Engine Specifications
Immerse yourself in an intoxicating blend of performance, and handling. The Infiniti Q50 2023 is powered by a 3.0L twin-turbocharged V6 engine with 300hp or 400hp respectively with 400Nm or 475Nm of torque and is mated to a 7-speed automatic transmission and RWD drivetrain. 0 to 100km/h time is approx. 5.5sec (for the first option) and 4.7sec (for the second or 400hp option) and the top speed are approx. 250km/h.
Infiniti Q50 Safety and Driver Assistance
There is nothing to worry about when driving an Infiniti, especially the Infiniti Q50 2023. It has the latest safety features that keep you safe while driving. the safety features include an advanced airbag system, 3-Point Elr Front Seat Belts W/ Pretensioners and Load Limiters, 3-Point Elr Rear Seat Belt (Right and Center and Left), Driver & Passenger Seat Belt Shoulder Height Adjuster, ISOFIX+ tether, antitheft alarm with immobilizer, emergency stop signal, brake assist, traction control, and vehicle dynamic control. Safety also includes an antilock braking system, electronic brakeforce distribution, front and rear parking sensors with monitor guide display, cruise control, tire pressure warning, and active stability assist. All those safety features help you navigate with ease.
Why Should You Buy an Infiniti Q50 2023?
The exterior design of the Infiniti Q50 2023 is appealing to buyers. It has a cozy and comfortable interior that provides the best ride experience for all passengers. It also has an impressive suspension setup and standard safety features on which customers can rely. The Infiniti Q50 2023 is the car to consider if you are looking for a car with excellent pricing in a luxury-filled market space.
Infiniti Q50 2023 Price
Prices for the Infiniti Q50 2023 start from approx. $41,657 for the 3.0T Luxe, $44,379 for the 3.0T Sensory, $49,008 for the 3.0T sport, and $55,814 for the 3.0T red sport. Prices are currently not available in Saudi Arabia.
Infiniti Q50 2022 vs Infiniti Q50 2023
No changes were made for the Infiniti Q50 2023. It came with identical features to the 2022 model.
Infiniti Q50 Comparison between Trims and Models
4 trims are offered for the Infiniti Q50 2023: the 3.0T Luxe, 3.0T Sensory, 3.0T Sport, and 3.0T Red Sport. All trims share the same 3.0L twin-turbocharged V6 engine but with a different output and have different wheel size which is 18 or 19-inch depending on the trim. Some of the features differ between the dealers.
Infiniti Q50 Pros and Cons
The engine options, handling, cabin trim, and sleek looks are the pros of an Infiniti Q50 2023. The steering feel, unavailable manual option, and infotainment touchscreens are the cons of an Infiniti Q50 2023.