Porsche 718 2023 Review and Prices in UAE
The Porsche 718 is a mid-engine 2-seater sports car produced by Porsche since 1966. The fourth generation, which is the current generation for Porsche 718, was introduced in 2016. It comes in the following trims: The 718 Cayman, 718 Boxter, 718 Cayman Style Edition, 718 Boxter Style Edition, 718 Cayman S, 718 Boxter S, 718 Cayman GTS 4.0, 718 Boxter GTS 4.0, 718 Cayman GT4, 718 Spyder, and 718 Cayman GT4 RS. The available engine options for the Porsche 718 are a 2.0L turbocharged flat-four engine, a turbocharged 2.5L flat-four engine, and a 4.0L flat-six engine.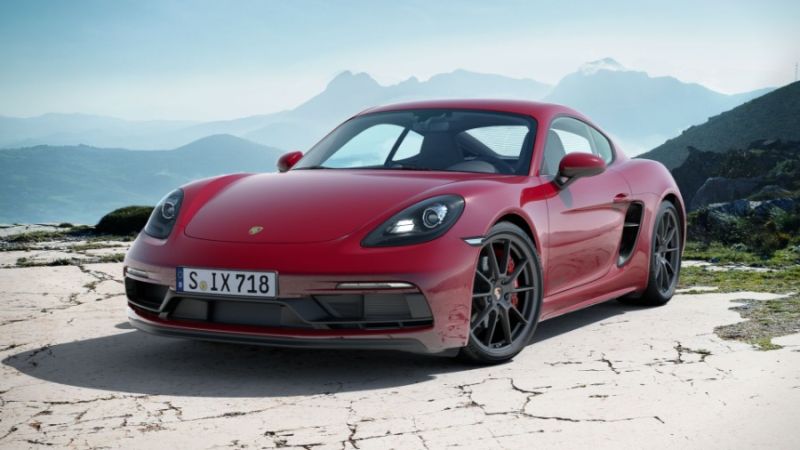 Porsche 718 Exterior
The outside of the Porsche 718 2023 is a work of beauty. In cooperation with the LED daytime running lights, whose design is a perfect example of Porsche's historic sporty design but with a touch of modernity, the front of the car has black air intakes that make it appear even broader and give it a sportier appeal. Not to be overlooked is the front spoiler's useful aerodynamic function. As you turn to the side, all you can see is a stylish sports automobile. The side has wheels that may be up to 20 inches in diameter and side vents that give the car an aggressive look while cooling the engine in the middle. The rear view is so pleasing to the eye as a whole because, in addition to the LED taillights, it has dual exhaust tips that play symphonies, an active spoiler, and a rear diffuser. White, racing yellow, black, GT silver metallic, night blue metallic, lava orange, carmine red, and python green are a few of the exterior colors that are offered. Exterior measurements are 437.9 cm long, 180.1 cm wide, 128.1 cm tall (or 129.5 cm for the Cayman), 247.5 cm in wheelbase, and between 1335 and 1454 kg in weight.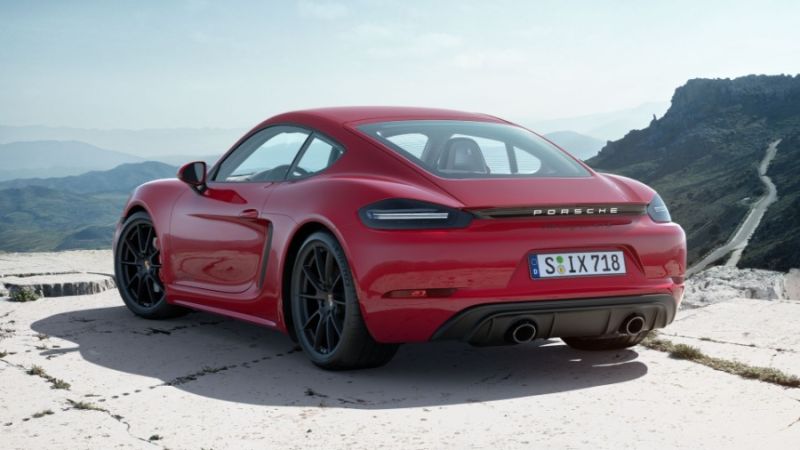 Porsche 718 Interior
Leather seats and numerous other leather inside accents give the Porsche 718 2023 a very upscale appearance. The inside, however, may be completely customized, thus some higher trims (such as the GT4 and GT4 RS) have carbon fiber accents and Alcantara seats, and even the GT4 RS might have carbon fiber bucket seats. The Porsche 718 is a car for fun, adventure, and touring since it is driver-oriented but not family-friendly. A multipurpose steering wheel, a central console with buttons for various systems, and a gear knob with a sporty appearance are also included in the cabin.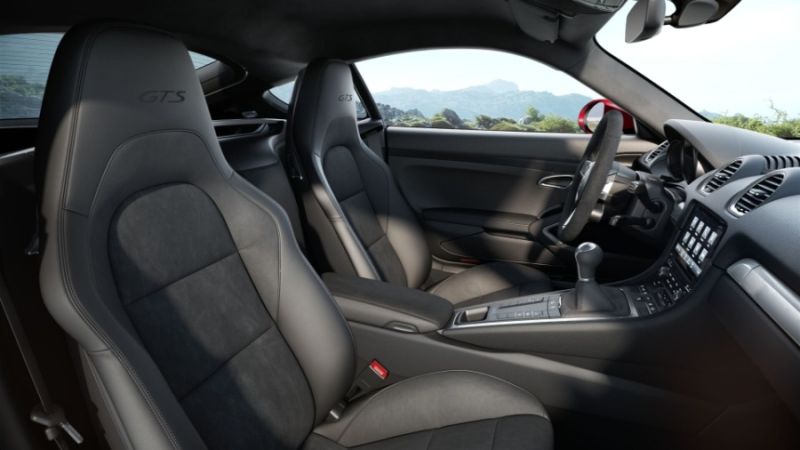 Porsche 718 Technology and Infotainment
The Porsche 718 2023 comes standard with a 7-inch touchscreen, a navigation system, Apple CarPlay, and Android Auto, AUX and USB ports, and a 6-speaker sound system, a Bose surround sound system with 10 speakers, or a Burmester high-end surround sound system with 12 speakers.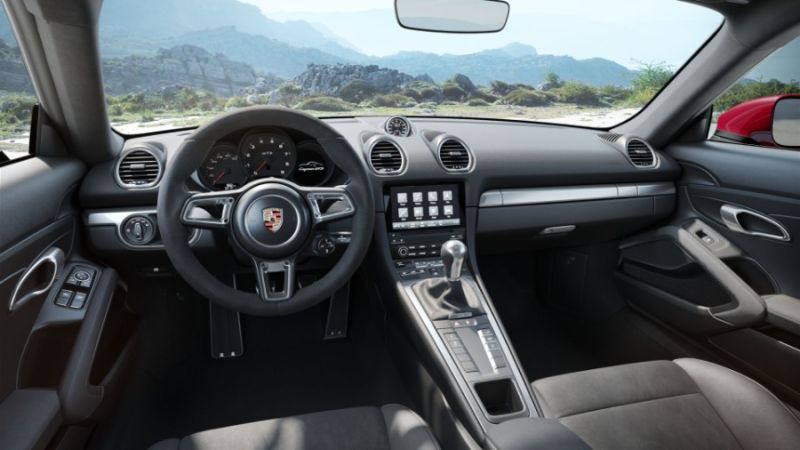 Porsche 718 Engine Specifications
The Porsche 718 2022 is available with 3 engine options that are a 2.0L turbocharged 4-cylinder engine with 300hp and 380Nm of torque, a 2.5L turbocharged 4-cylinder engine with 350hp and 420Nm of torque, and a 4.0L naturally aspirated 6-cylinder engine with 400hp, 420hp, or 500hp respectively with 420Nm, 420Nm, or 450Nm of torque. All engine options work with a 6-speed manual or 7-speed PDK transmission and RWD drivetrain. 0 to 100km/h time is between 5.1sec and 3.4sec and top speed is between 262km/h to 285km/h.
Porsche 718 Safety and Driver Assistance
Automatic Distance Control, Lane Change Assist, Park Assist, reversing camera, Speed Limit Indicator, front and rear parking sensors, Blind-Spot Monitoring, airbags, Antilock Braking System, and Traction Control are among the safety and driver assistance features available in the Porsche 718 2023.
Why Should You Buy a Porsche 718 2023?
The Porsche 718 2023 is simple to maneuver and steer: it comes with a manual transmission option and powerful engine options, making it ideal for driving enthusiasts. The interior is also highly customizable, with the excellent build quality.
Porsche 718 2023 Prices
The starting price for the Porsche 718 2023 is approx. $65,369 for the base model cayman and $146,856 for the top model cayman GT4 RS.
Porsche 718 2022 vs Porsche 718 2023
No changes were made to the Porsche 718 2023. It came with the same features as the 2022 model.
Porsche 718 comparison between Trims and Models
The 718 Cayman, 718 Boxter, 718 Cayman style edition, 718 boxter style edition, 718 Cayman s, 718 Boxter S, 718 Cayman GTS 4.0, 718 Boxter GTS 4.0, 718 Cayman GT4, 718 Spyder, and 718 Cayman GT4 RS are the 11 trims available for the Porsche 718 2023. The engine options, which are a 2.0L 4-cylinder engine, a 2.5L 4-cylinder engine, or a 4.0L 6-cylinder engine, differentiate the trims. The trims also differ in terms of wheel size, which can range from 18 to 19 to 20 inches depending on the trim. Some of the features vary between dealers.
Porsche 718 Pros and Cons
The handling, cabin trim, performance, and styling are the pros of the Porsche 718 2023. The practicality, price, and cost of options are the cons of a Porsche 718 2023.