Jeep Gladiator 2023 Review and Prices in UAE
The first generation of the Jeep Gladiator, a mid-size pickup truck, was produced from 1962 to 1988. The second generation, which replaced the first, began production in 2020. The 3.6L V6 engine in the Jeep Gladiator 2023, which is a member of the second generation, is offered in 4 trim levels: Sport, Overland, Rubicon, and Sand Runner. The Jeep Gladiator is a truck version of the Wrangler, with the same off-roading abilities, powerful looks, and impressive strength.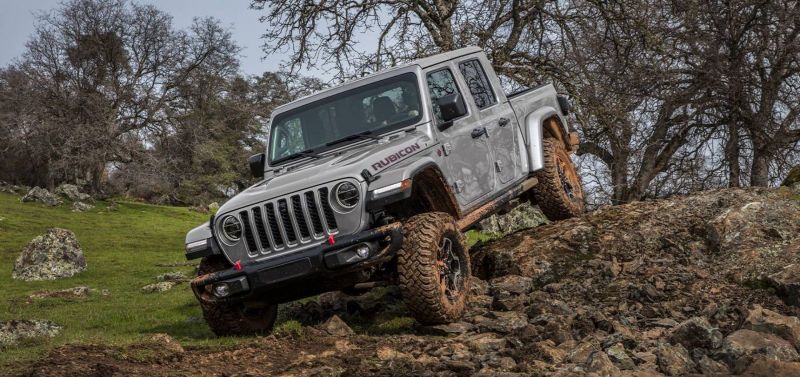 Jeep Gladiator Exterior
The Jeep Gladiator looks like a Jeep Wrangler, but with a rear bed. It has the traditional Jeep front design, with the 7-column grille and circular LED headlights that contain daytime running lights. Fog lights are found under the grille on the front sides. The Jeep Gladiator has a large front bumper that makes it look bold. 17-inch aluminum or steel wheels, big side fenders with signal lights, black rubber side sills, body-colored door handles, and heated and power black side mirrors are all features of the sides. The Jeep Gladiator 2023's back has an exhaust system, LED taillights, rear fog lamps, and a big trunk. Firecracker Red, Snazzberry Pearl Coat, Hydro Blue, Billet Silver Metallic, Granite Crystal Metallic, Sting-Gray, Bright White, and Black are the exterior colors that are offered. The outside measurements are 553.7 cm long, 187.5 cm wide, 185.7 cm high, 348.7 cm in wheelbase, and 2300 kg in weight.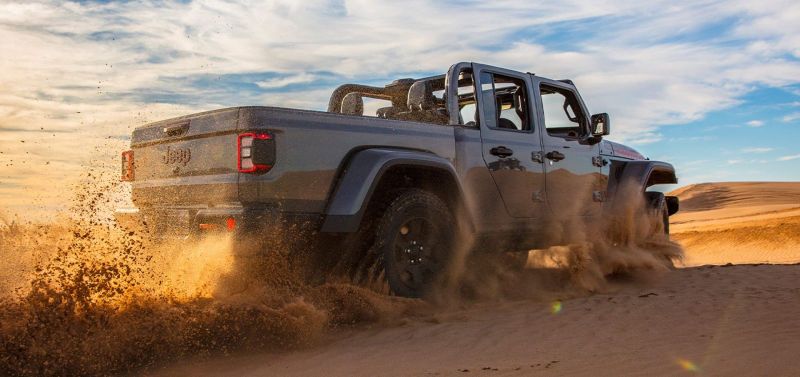 Jeep Gladiator Interior
The interior of the Jeep Gladiator 2023 has cloth or leather seats, a multifunctional steering wheel, foldable rear seats, floor mats, a glovebox, auto-dimming rearview mirrors, a center console with locking storage, driver, passenger assist handles, and dual-zone automatic climate control with AC vents, to name a few features. The interior of the Gladiator is simple and maintains the identity of an off-roader as much as possible. In other words, it's not a truck for luxury or comfort; it's a truck for adventure.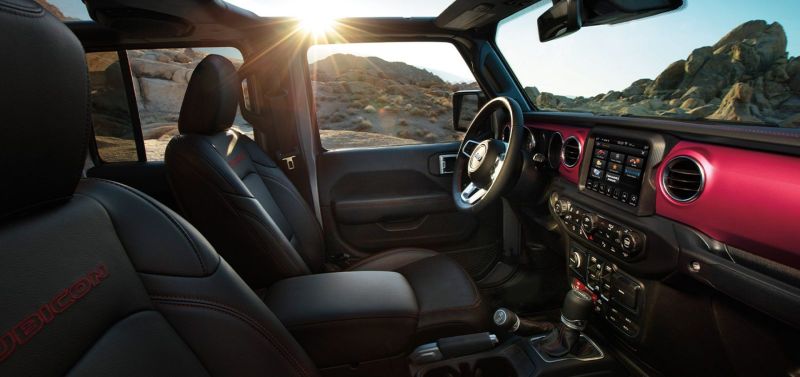 Jeep Gladiator Technology and Infotainment
The Jeep Gladiator 2023 is equipped with a 7 or 8.4-inch touchscreen, Apple CarPlay and Android Auto, Bluetooth, a navigation system, and an 8-speaker sound system.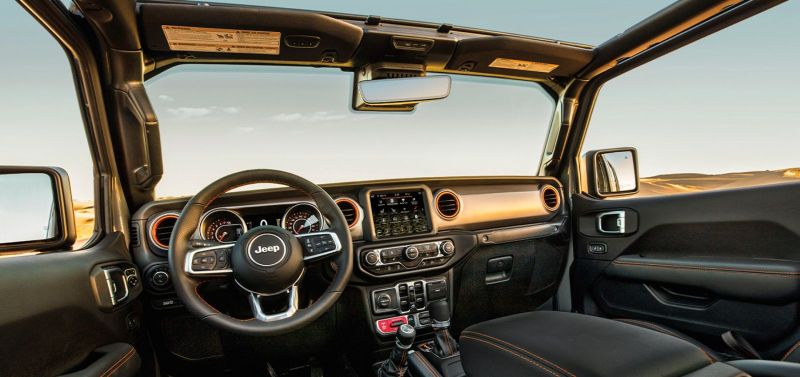 Jeep Gladiator Engine Specifications
A 3.6L V6 engine with 285 horsepower and 353 Nm of torque, coupled with an 8-speed automated transmission and a 4WD powertrain, powers the Jeep Gladiator 2023. The top speed is 190 km/h, while the time from 0 to 100 km/h is 8.5 sec.
Jeep Gladiator Safety and Driver Assistance
Tire Pressure Monitoring, Blind-Spot Monitoring, Rear Traffic Warning, off-road front camera, Electronic Stability Control, Hill Start Assist, Forward Collision Warning, Adaptive Cruise Control with Stop Function, airbags, and Remote Engine Start are some of the safety and driver assistance features in the Jeep Gladiator 2023.
Why Should You Buy a Jeep Gladiator 2023?
The Jeep Gladiator 2023 boasts superior all-terrain capability, strong traction control, and heavy-duty suspension. Additionally, it has removable doors and a roof, making it the only convertible truck on the market. The dashboard design, plush seats, and cutting-edge technologies give the Jeep Gladiator 2023's powerful engine as well as an enticing interior. Additional customization options include a wide range of exterior and interior paint colors, trim options, special towing packages, and performance upgrades.
Jeep Gladiator 2023 Price
Prices for the jeep gladiator 2023 start from approx. $54,995.
Jeep Gladiator 2022 vs Jeep Gladiator 2023
The 2023 model of the jeep gladiator came with no changes. It came with the same specifications as the 2022 model.
Jeep Gladiator Comparison between Trims and Models
The trims available for the jeep gladiator are Sport, Overland, Rubicon, and Sand Runner. All trims have the same 3.6L V6 engine and 17-inch wheels. They also differ with some exterior and interior features.
Jeep Gladiator Pros and Cons
The cargo capacity, off-road ability, and tough looks are the pros of a jeep gladiator 2023. The price, firm ride, and noisy interior are the cons of a jeep gladiator 2023.