Maserati MC20 2023 Review and Prices in UAE
Maserati MC20 is a two-seater mid-engine sports car unveiled by the Italian automaker Maserati in 2022. The first-generation Maserati MC20 2023 is available in 2 trims, Standard and Cielo, and is powered by only one engine option, a 3.0L twin-turbo V6.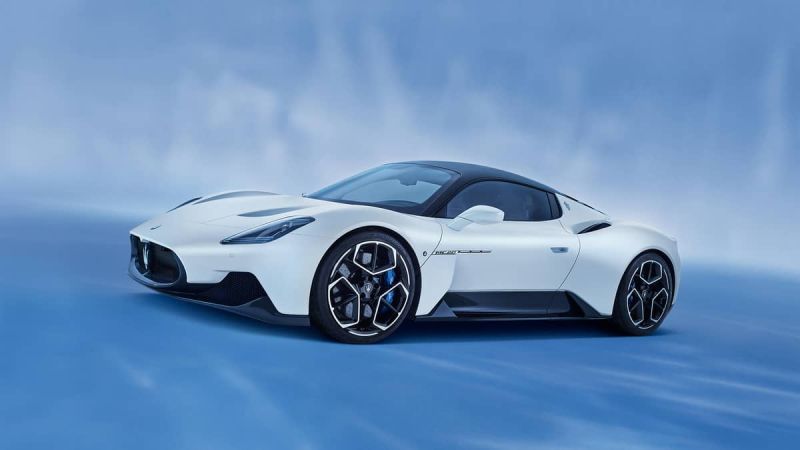 Maserati MC20 Exterior
Starting with the exterior of the Maserati MC20 2023, the front includes a front grille with a Maserati trident in the center, LED headlights, daytime running lights, and side air vents. The sides have upward-opening doors, body-colored electronic side mirrors, and 20-inch wheels with P245/35 tires up front and P305/30 tires down back. LED taillights, a twin exhaust system, a rear diffuser, and an engine cover are all present on the MC20's back. Blue Infinito, Bianco Audi, Giallo Genio, Grigio Mistero, Rosso Vincente, and Nero Enigma are the exterior colors that are offered. 466.9cm in length, 217.8cm in width, 122.4cm in height, 270cm in wheelbase, and a curb weight under 1500kg are the exterior measurements.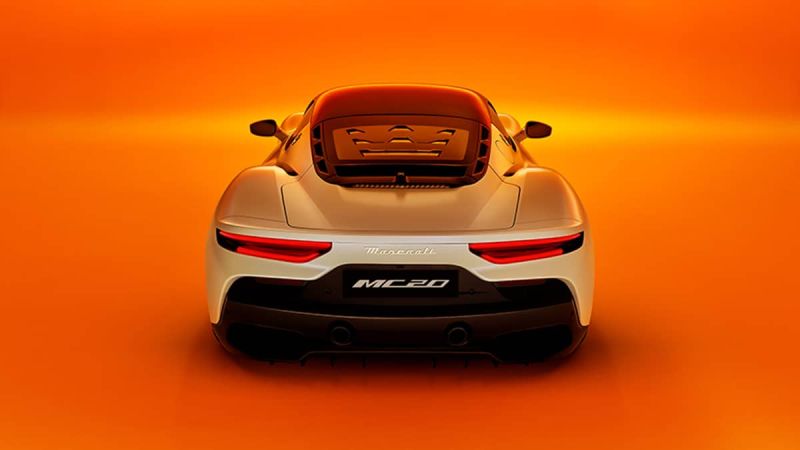 Maserati MC20 Interior
Moving inside, the Maserati MC20 2023 has leather and Alcantara seats, a carbon fiber center console, a steering wheel with Alcantara accents, a drive mode selector, a rearview mirror, and a glove box. Additionally, it has AC vents and a dual-zone air conditioning system.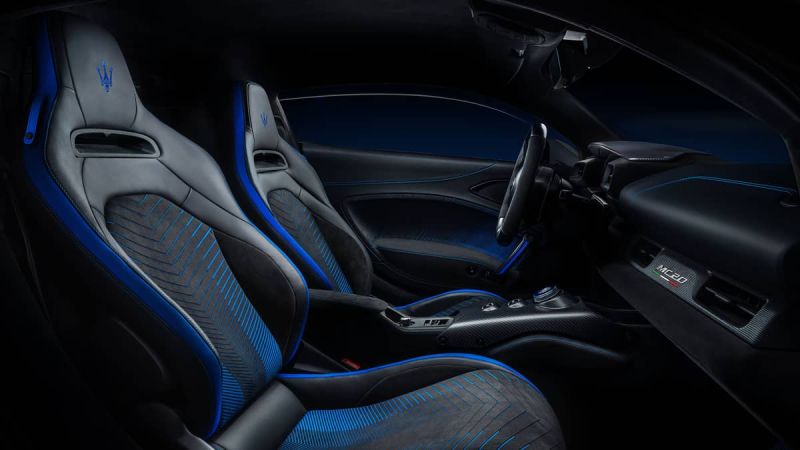 Maserati MC20 Technology and Infotainment
A 10.2-inch TFT dashboard, a 10.25-inch infotainment screen, Bluetooth, radio, navigation, Android Auto, voice control, and a mobile hotspot are among the technology and entertainment features of the Maserati MC20 2023. Additionally, it boasts a 12-speaker Sonus Faber high-end sound system.
Maserati MC20 Engine Specifications
The 3.0L twin-turbo V6 that powers the RWD Maserati MC20 2023 produces 630hp and 730Nm of torque. It is mated to an 8-speed automated transmission. The MC20 has a top speed of 325km/h and goes from 0 to 100km/h in 2.9sec. There are four driving modes available for it: GT, Sport, Corsa, and Wet.
Maserati MC20 Safety and Driver Assistance Systems
An antilock braking system, antitheft alarm, blind spot warning, electronic brakeforce distribution, gas shock absorber, immobilizer, rear camera, traction control, hill assist, and brake assist are some of the safety and driver aid features of the Maserati MC20 2023. Airbags, collision detection, fire extinguishers, passenger airbags, and tire pressure monitoring systems are further safety features.
Why should you buy a Maserati MC20 2023?
The Maserati MC20 2023 blends elegance, lavish style, comfort, and excellent performance, as well as a fully digital cabin and an impressive exterior appearance. With its potent V6 engine and RWD powertrain, the Maserati MC20 2023 is a quick vehicle. The Maserati MC20 2023 would be a fantastic pick if you're seeking a luxurious, comfortable automobile with great performance and features.
Maserati MC20 2023 Prices
The starting price for the Maserati MC20 2023 is approx. $271,987 for the MC20 Standard, and $312,826 for the MC20 Cielo.
Maserati MC20 2022 vs Maserati MC20 2023
No changes were made for the 2023 model of the Maserati MC20 since it was newly introduced in 2022.
Maserati MC20 Comparison in Trims and Models
Two trims are available for the Maserati MC20 2023 which are the Standard and Cielo. Both trims share the same 3.0L twin-turbo V6 engine and 20-inch wheels, except for one difference which is the retractable roof for the MC20 Cielo. Some of the features differ between the dealers.
Maserati MC20 Pros and Cons
Pros of the Maserati MC20 2023 are handling and performance. Cons of the Maserati MC20 2023 are the price and limited storage space.