BMW 7 Series 2023 Review and Prices in UAE
The BMW 7 series is a full-size luxury sedan produced by BMW in 1977 in its 1st generation, which was followed by 6 generations with the 7th introduced in 2022. The BMW 7 series 2023 is part of its 7th generation that comes in 3 trims: 735i sDrive, 740i sDrive, and 760i xDrive. These first two trims are powered by a 3.0L 6-cylinder engine, while the last is powered by a 4.4L V8 engine.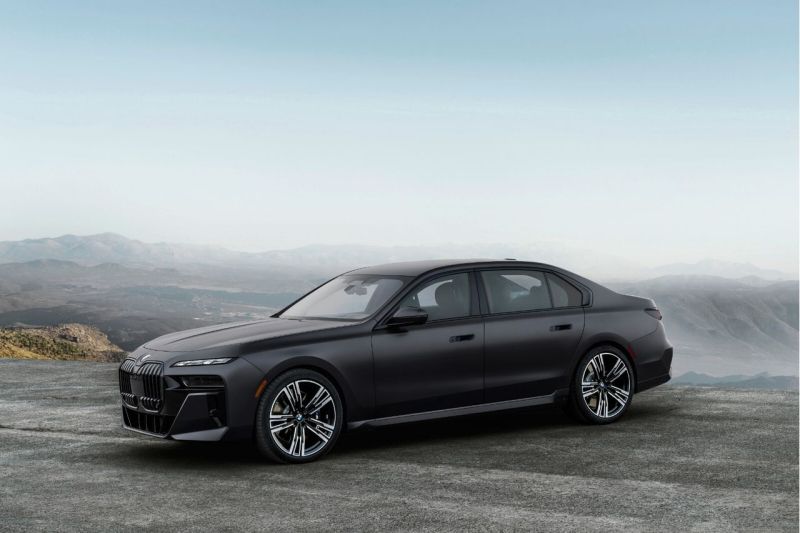 BMW 7 Series Exterior
The exterior of the BMW 7 Series 2023 comes with an aggressive futuristic look that features a large strikingly illuminated kidney grille under a very huge hood. Also, the front features crystal headlights, daytime running lights, and side air vents. The sides feature 20 or 21-inch wheels, body-integrated door handles, power-folding and adjustable side mirrors with turn signals. The rear of the BMW 7 Series 2023 features LED taillights, rear fog lights, a sporty exhaust system, a rear bumper, and a cargo access. Exterior dimensions are 539.1cm length, 195cm width, 154.4cm height, 321.5cm wheelbase, and a weight of 2270kg. The limousine-like car can come with a dual-tone external paint.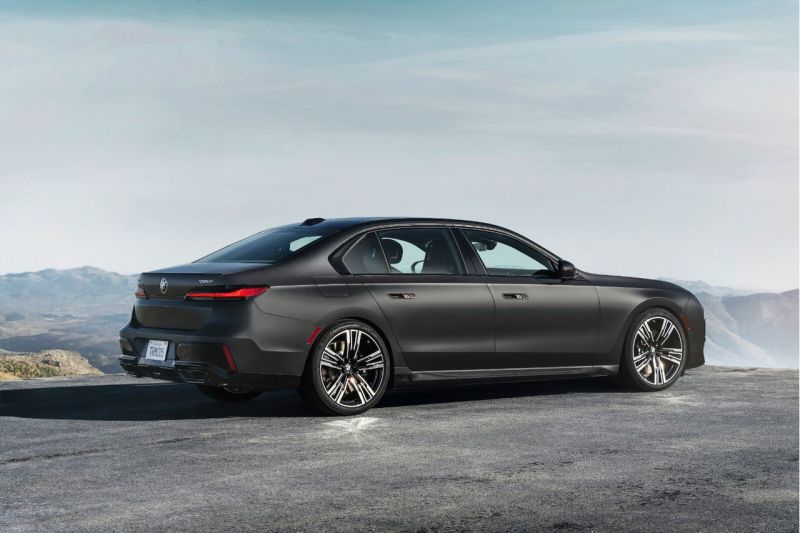 BMW 7 Series Interior
The interior of the BMW 7 Series is just another world of premium luxury and technology. The interior features wood accents, diamond and crystal patterns, chrome accents, and premium leather. On the dashboard lies a linear bold interior lighting that follows a crystal pattern and includes AC vents. The front seats look sporty; however, they're design for the comfort of the front passenger. The rear seats include the foot rest option. From the top goes down a huge a cinema-like 31.3-inch screen installed for the entertainment and comfort of the rear passengers.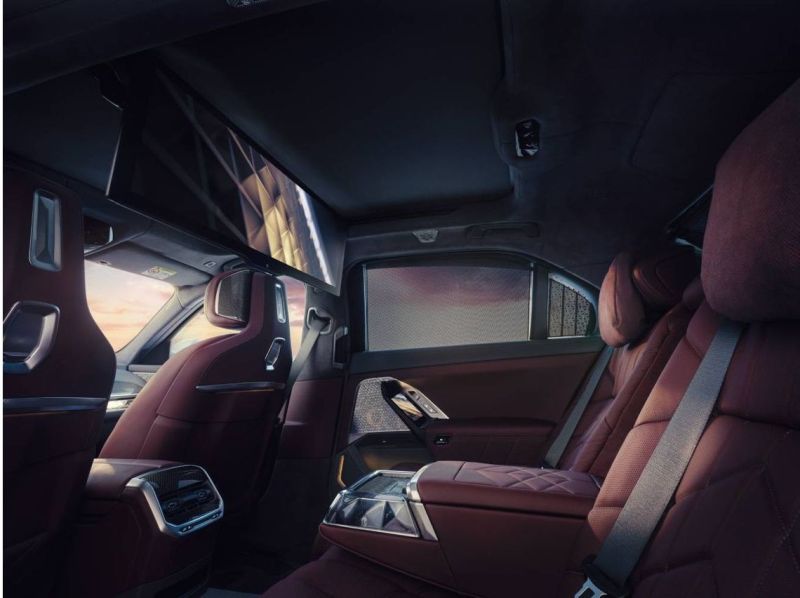 BMW 7 Series Technology and Infotainment
The technology and infotainment features in the BMW 7 series 2023 include a 14.9-inch touchscreen, 12.3-inch driver information display, 31.3-inch rear-seat entertainment experience, wireless charger, WIFI, navigation, Bluetooth, apple car play, and an 18-speaker Bowers and Wilkins sound system. Technology also features a four-zone climate control, a panoramic sky lounge LED roof, and heated and ventilated seats with a nine-program massage function.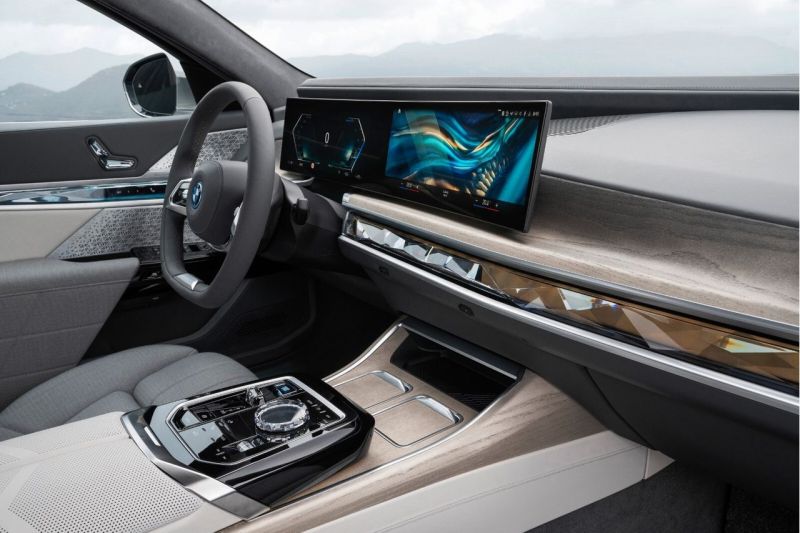 BMW 7 Series Engine Specifications
2 engine options are available for the BMW 7 series 2023: a 3.0L 6-cylinder engine with 268hp and 282hp respectively with 400Nm and 540Nm of torque, and a 4.4L V8 engine with 536hp and 750Nm of torque. Both engines are connected to an 8-speed automatic transmission and either RWD or an AWD drivetrain. 0 to 100km/h time is between 6.7 sec and 4.2 sec and the top speed is 250km/h.
BMW 7 Series Safety and Driver Assistance
An automatic Braking System, Driver Warning System, Blind-Spot Detection System, Electronic Stability Program, front and rear parking sensors, rearview camera, Lane Departure Alert, Emergency Brake, and Parking Assist are among the safety and driver assistance features in the BMW 7 2023. Airbags, Traction Control, and Tire Pressure Monitoring System are further safety features.
Why Should You Buy a BMW 7 Series 2023?
The interior of the BMW 7 2023 is super elegant, super advanced, and the ride is comfortable and smooth. It comes with several high-tech amenities that are both standard and optional, and it has extremely responsive driving characteristics. The BMW 7 2023 is an excellent option for individuals seeking a high-end German vehicle.
BMW 7 Series 2023 Price
The starting price of a BMW 7 series 2023 is $142,931 for the 735i sDrive, $155,182 for the 740i sDrive, and $179,685 for the 760i xDrive.
BMW 7 Series 2022 vs BMW 7 series 2023
The 7-series has been completely redesigned for the 2023 model year and offers an even plusher cabin, more futuristic technology, and bolder exterior styling.
BMW 7 Series Comparison between Trims and Models
The BMW 7 series 20233 comes in 3 trims, which are the 735i sDrive, 740i sDrive, and the 760i xDrive. The difference between the trims is the engine options, which are a 3.0L 6-cylinder engine option or a 4.4L V8 engine option, and the wheel size, which can be 20 or 21-inch. Some of the features differ between the dealers.
BMW 7 Series Pros and Cons
The pros of a BMW 7 Series 2023 are the handling, performance, and fuel economy. The cons of a BMW 7 series 2023 are the price, misleading badges, and electronics overkill.