Ferrari Roma 2022 Review and Prices in UAE
The Ferrari Roma is a grand touring and high-performance Italian sports car first produced by Ferrari in 2020. It is inspired by the Ferrari Portofino. The stunning Roma 2022 appeals to a whole new demographic with its high-speed engine, very sleek look, advanced technology, and very comfortable ride.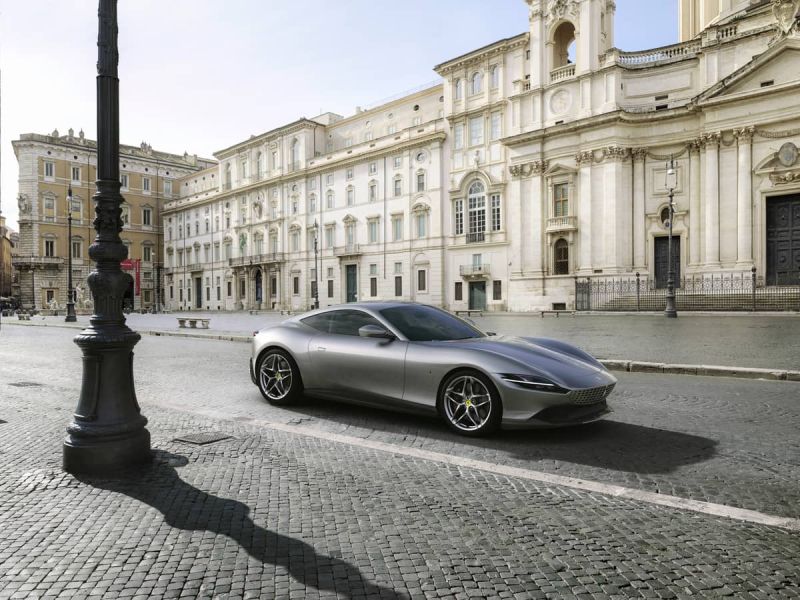 Ferrari Roma Exterior
The front of the Ferrari Roma 2022 is comprised of a front grille, LED headlights, daytime running lights, and a front bumper. Body-colored integrated door handles, electronic door mirrors, and 20-inch wheels with 245/35 front and 285/35 rear tires are featured on the sides. LED taillights, trunk liftgate access, a rear diffuser, and a quad exhaust system are all standard on the Roma 2022's rear end. Blu Tour de France, Grigio Ingrid, Rosso Dino, Bianco, Nero Daytona, Azzurro California, Giallo Modena, and Verde British are some of the exterior colors offered. The outside measurements are 465.6cm in length, 197.4cm in width, 130.1cm in height, 267cm in wheelbase, and 1472kg in weight.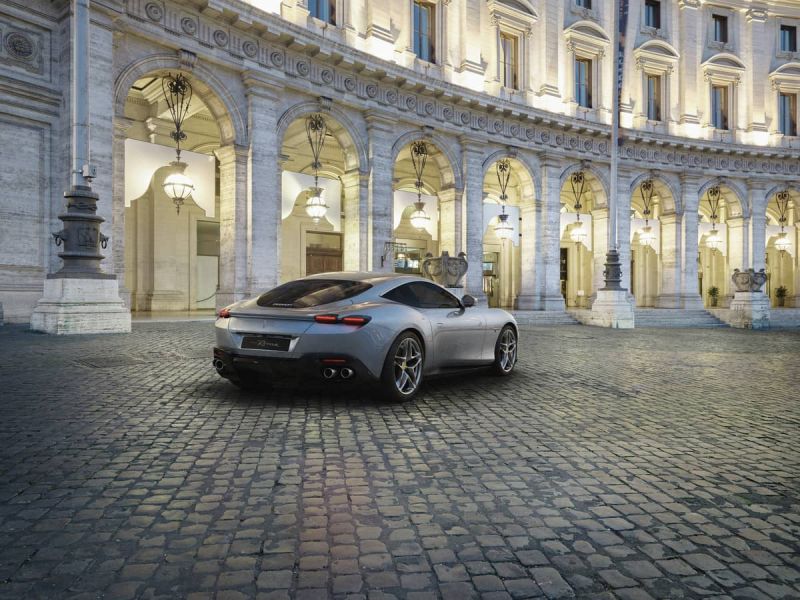 Ferrari Roma Interior
Leather seats, small rear seats, front center armrest with cup holder, gearshift buttons, steering wheel with control buttons, power windows, push start button, sun visors, rearview mirror, and an automatic climate control system with AC vents and air purification system are among the interior features of the Ferrari Roma 2022.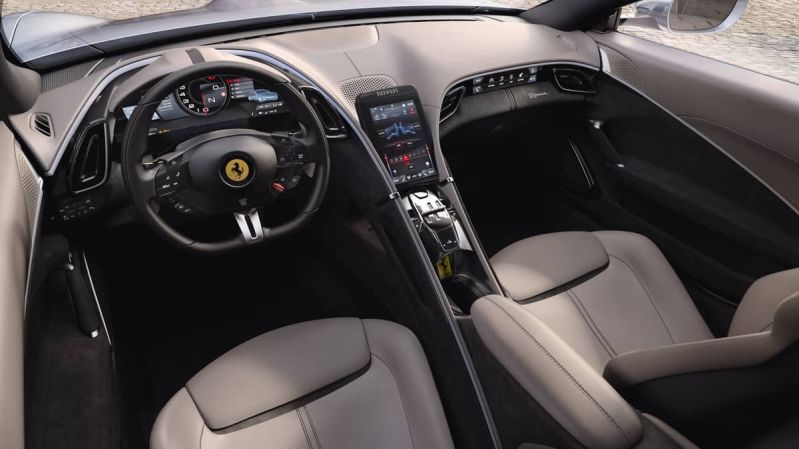 Ferrari Roma Technology and Infotainment
A 16-inch wrap-around touchscreen, an 8.4-inch portrait touchscreen, navigation, Bluetooth, an AM/FM radio, and USB ports are among the technology and infotainment options in the Ferrari Roma 2022. A JBL sound system with 8 speakers is also included.
Ferrari Roma Engine Specifications
The Ferrari Roma 2022 is equipped with a 3.9L turbocharged V8 engine that produces 612 horsepower and 760 Nm of torque and is mated to an 8-speed DCT transmission and RWD system. The Ferrari Roma goes from zero to 100 kilometers per hour in 3.4 seconds and tops out at 320 kilometers per hour.
Ferrari Roma Safety and Driver Assistance Systems
Airbags, traction control, electronic stability control, antilock braking system, optional adaptive cruise control, brake assist, electronic brakeforce distribution, seatbelts with pretensioners, and tire pressure monitoring system are among the safety and driver assistance features in the Ferrari Roma 2022.
Why should you buy a Ferrari Roma 2022?
The Ferrari Roma 2022 combines unrivaled adrenaline with a timeless and sublimely elegant design. It is the most practical and usable Ferrari model. It's simple to drive and has enough ground clearance for a variety of road situations.
Ferrari Roma 2022 Prices
The Ferrari Roma 2022 has a starting price of $245,000.
Ferrari Roma 2021 vs Ferrari Roma 2022
Since it was first presented in 2021, no alterations have been made to the Ferrari Roma for the 2022 model.
Ferrari Roma Comparison in Trims and Models
The Roma is the only trim level offered for the Ferrari Roma 2022. There are no other trims that can be compared to it.
Ferrari Roma's Pros and Cons
Pros of the Ferrari Roma 2022 are greater riding comfort, fast speed, and quick handling thanks to precision steering. Cons of the Ferrari Roma 2022 are its high price, cramped rear seats, and poor fuel efficiency.